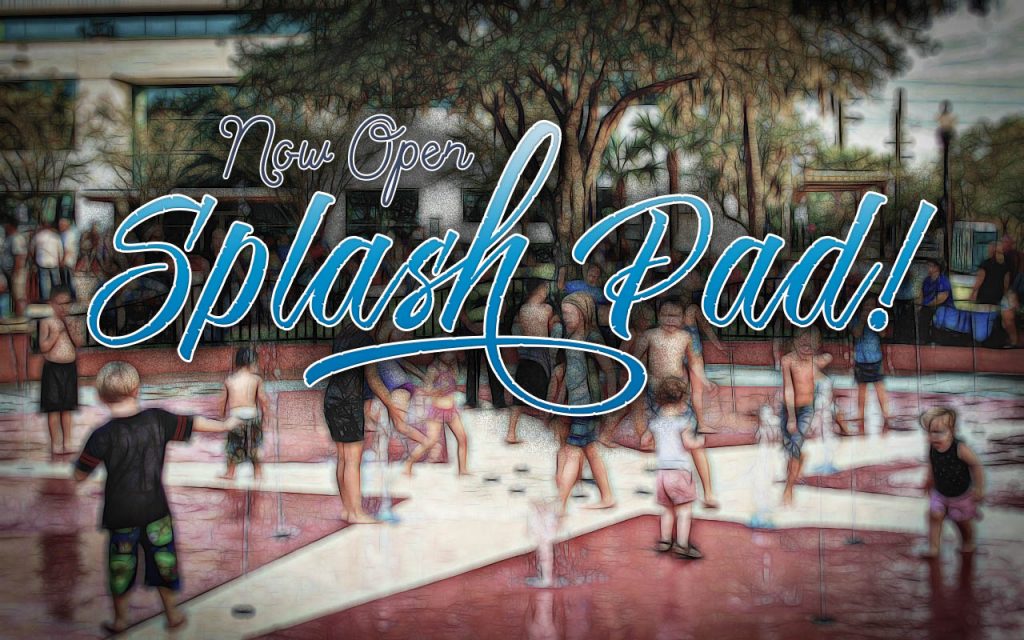 Bring your kids by to try out the fun at the Downtown Ocala Splash Pad in Citizen's Circle! The splash pad located at Citizens' Circle is open daily throughout spring and summer. Citizens' Circle is located west of City Hall at the corner of Fort King St. and Osceola Ave. Hours of operation are sunrise to sunset. Restrooms are available in at the splash pad in Citizen's Circle as well as in City of Ocala's City Hall Monday – Friday, 8 a.m. – 5 p.m. The Splash Pad is an interactive fountain which requires the user to step on a foot switch to start the water. The water will run for several minutes and then must be triggered by stepping on the switch again. Citizen's Circle is a venue where the City of Ocala holds concerts and events.
Splash Pad Hours
The splash pad and the restrooms are open from sunrise to sunset seven days a week from Mid-March to the end of October.   The splash pad is only open during events on Citizens' Circle if the event coordinator wants it open (otherwise it's closed during events).
NOTE: The splash pad at Citizens' Circle will reopen for the spring effective Friday, March 10 at 8 a.m. Bring the kids for a fun day at the splash pad in beautiful downtown Ocala! The splash pad, located at 151 SE Osceola Ave., is free for the public to use and will be open daily from sunrise to sunset. Guests visiting the splash pad are encouraged to park in the new 402-space downtown parking garage located at the corner of Ft. King Street and Osceola Avenue.