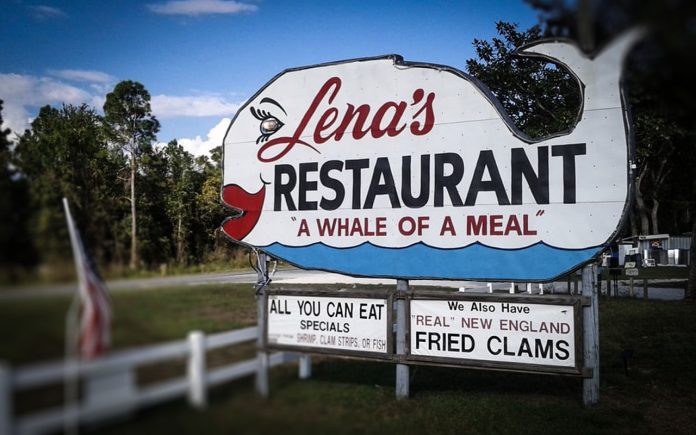 You have probably passed the huge whale sign a million times making the trip from Ocala to Daytona, but have you stopped and ate at Lena's Seafood on the western edge of the Ocala National Forest in Silver Springs? If you haven't, definitely take the time and try them out!
We usually get a Fried Scallop Plate, a Half Fried Shrimp and Half Fried Haddock Plate as well as a Whole-Belly Clam plate! I'll throw in some of the Fried Lobster Bites as well! The clam strips are awesome as well … just can't go wrong.  A little pricey on the full plates but certainly worth the splurge for sure, the portions are huge!
Lena's Seafood began as a take-out stand on Salisbury beach in 1958. Moved uptown in 1972 and is known for serving fresh New England fried seafood. From the famous onion rings hand-dipped in a homemade batter, to the fish and clam chowder cooked daily, Lena's has become a local favorite up North and down South as well!
Great New England Seafood. Being from Maine and now living in Florida, I thought I would never be able to find whole belly fried clams. But I did here at Lena's Seafood. Fried haddock shrimp and scallops are also delicious. They also have chowders of fish and clams. Have been there 4 times so far and never disappointed. Friendly staff also. Try it you'll like it. – Roland Corbeil
VIEW LENA'S SEAFOOD IN SILVER SPRINGS, FL, MENU