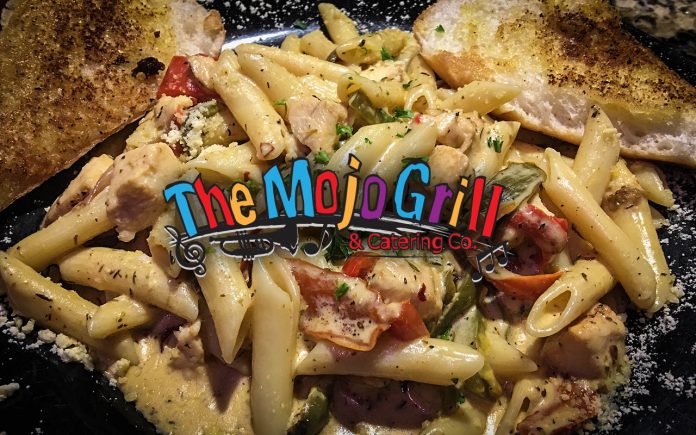 Whether you are on the east side or west side of Ocala, or even down in Belleview, there's a Mojo Grill that has you covered! I usually keep to my Buffalo Chicken Wrap, Blackened Mahi and Shrimp Fajitas or an awesome Cuban Sandwich, depending on the day and the mood. I figured today was a good day to order the Rasta Pasta, as I haven't had it in awhile. If you haven't eaten one of their outstanding pasta dishes, you should!
The Rasta Pasta is red, yellow and green peppers tossed in jerk-alfredo sauce then topped with jerk chicken. I recommend one of their huge sweet teas, or one of the many beers on tap, as this dish comes with a little heat.
Some of the best chicken Wings in Ocala!
Not only do they have great food, but they are strong supporters of our community. Rondo Fernandez, founder of Feed the Need, has always had a passion for helping those in need, particularly children and young adults who are a product of unfortunate circumstances that are usually out of their control. In the short time that Feed the Need has been active, the organization has contributed over $10,000.00 to Interfaith and the Marion county School Board homeless youth program. These programs put money towards food, clothing and hygiene supplies for homeless youth in our county.
Feed the Need is a non-profit, faith based organization established under the umbrella of Ocala Outreach Foundation, Inc. The main focus and mission of Feed the Need is to offer much needed support while positively impacting underprivileged youth in Marion county, particularly those who are without a home.
In our county alone there are more than 3,000 registered children and young adults who don't have a place to lay their heads at night. That's not including the hundreds, possibly thousands, who are not registered. The scary thing about that number is it's growing every day.
The Feed the Need organization is able to affect change through the collaboration of local resources, faith and valuable community partnerships.