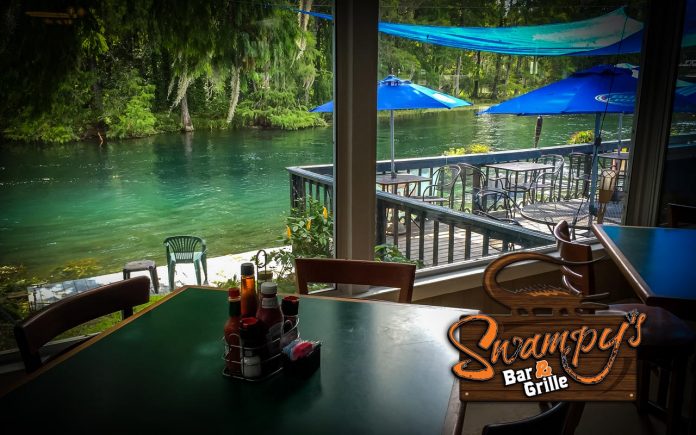 Looking for a beautiful spot on a cool Florida river with great food and great drinks? Check out Swampy's Bar & Grille right next door to Ocala in Dunnellon, FL!  We usually take a lazy drifting cruise down the river on paddle boards and kayaks, then end the day back at Swampy's Restaurant where we get some of the best food and drink in the Dunnellon area!
Looking over the beautiful Rainbow River from our restaurant deck, you can enjoy and understand the inspiration which created Swampy's. It is the raw beauty of the Florida river swamp with a few extra conveniences added – Swampy's great food and drink.
If you arrive early enough, you may observe the family of otters that swim, eat, and live right here at Swampy's river bank. As early afternoon arrives, you view local residents and tourists lazily floating down the river in tubes, kayaks, canoes, and a few boats. As the day ends, and the sun sets, you may again observe the family of otters venture out to enjoy their river dinner, as you enjoy yours.
What a wonderful discovery! We went to Rainbow Springs for the first time Sunday and wanted to eat afterwards. This restaurant is very close to the Springs and the Grumbles Antique House so you can make a whole day out of your trip to Dunnellon! Excellent and friendly service, delicious food, and good drinks and beer selection. You can also bring your dog – the outdoor seating has a lovely view of the Rainbow River. Shrimp and Mahi Orleans was FANTASTIC – cajun spices with etoufee sauce/gravy. The fried pickles with the house remoulade sauce was yummy as an appetizer too. – April
VIEW SWAMPYS RESTAURANT PHOTOS