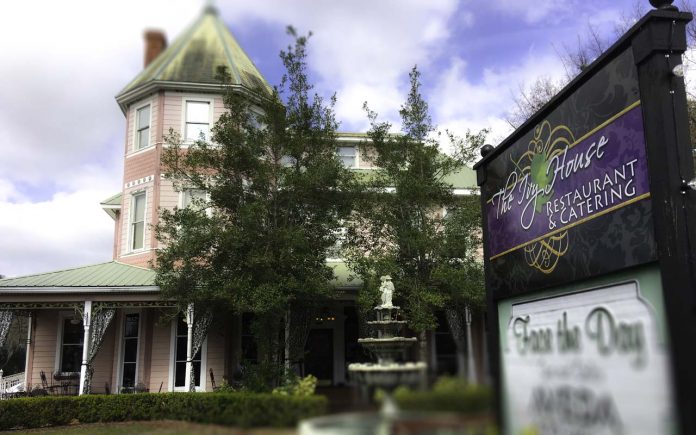 Being born and raised in Ocala, my mother and father used to take us to the Old 1890 House near Downtown Ocala. I can still remember the fried catfish or grouper and grits in the dark booths near the bar area! The building is still there but it's now called The Ivy House! I have never visited The Ivy House restaurant in Williston, FL, but if it's anything like The Ivy House in Ocala, FL, you need to check them out when you can!
This past week, I took my 7-year-old daughter there for her first time. We got the Southern Pan-Fried Mozzarella Cheese Bread and an order of the Fried Cheese Fritters as appetizers. For the main courses we got the Crispy Chicken plate, as well as the Fried Shrimp and Atlantic Cod plate. The Macaroni and Cheese was amazing, so were the french fries and corn bread. Don't forget the Raspberry Tea for me and the Raspberry and Lemonade Tea for my daughter.
All of it was amazing as usual! My daughter actually ate a little bit of everything and loved all of it! We got a Philly Cheese Steak and a ton of left overs to take home to my wife, who loved it as well!
They also feature an "1890 House Special" with Fried Group, cheese grits and more!
Great food, huge portions, great atmosphere and a great staff. Try out The Ivy House in Downtown Ocala next time you are looking for somewhere new to go. You won't be disappointed!
Their website says, "We have two locations conveniently located between OCALA and WILLISTON. You will find the same Southern charm and good eating at either location. Often, our customers will ask about Mimi's recipes such as her famous Krispy Chicken or her Raspberry Tea. We offer many of Mimi's recipes in her "Gracefully Southern" COOKBOOK. Mimi's Raspberry Tea MIX can be purchased at our Restaurants or online."
"Amazing! Atmosphere, people, food quality, portions, and facilities are all impeccable. We come here every time we are coming through town and have never been disappointed. Such a wonderful and friendly place." — Russ Johns
VIEW THE IVY HOUSE MENU AND PHOTOS