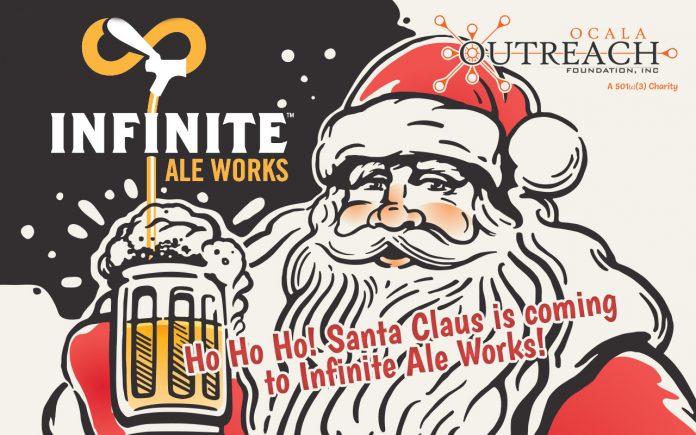 Ho Ho Ho!
Santa Claus is coming to Infinite Ale Works Brewery for our 3rd annual Santa @ The Brewery event!
Sunday, December 2nd
2 p.m. to 6 p.m.
Skip the line at the mall and come relax on a Sunday afternoon at Ocala's only brewery. Mom & Dad can enjoy a delicious Infinite Ale and the little ones can have their photo taken with Santa! Maybe Dad wants his photo with Santa… heck maybe you don't have any kids and you just want your photo with Santa while holding a pint or even your pup! Digital photos will be provided by a local professional photographer and all we ask is a donation to the Ocala Outreach Foundation, Inc. (Suggested minimum donation of $5 / all will be accepted) Ocala Outreach is a local 501c3 specialized in helping those most in need in our community. 100% of all donations go directly to those we help right here in Marion County.
Lots of fun for all ages!
**Arrangements can be made ahead of time for any special needs. Please email sam@infinitealeworks.com to make a request.
Santa is volunteering his time for this event as is our photographer to help Ocala Outreach. All digital photos will be available for download after the event. No physical prints are provided.